Safety is a feeling … you know what it is if it isn't here!
SBA Security provides advice on the purchase and installation of intrusion systems since 1979. Due to our up to date knowledge and customer friendly approach, we have acquired a large amount of regular customers as well as a good reputation.
 Security systems are made to detect intruders, but the security has to be user friendly and therefore integrated well into the daily life of the user. If your security needs to be changed, it should be easy to adapt. Besides intruder protection, extra components like motion detectors, video cameras, smoke and fire detectors and access control can be added to the system. SBA Security is your partner to configurate a complete security plan, covering all your needs.
+ Intruder protection
SBA Security has been providing advice on the purchase and installation of intrusion systems since 1979. Due to our up to date knowledge and customer friendly approach, we have acquired a large number of regular customers as well as a good reputation.
+ Domotics
Domotics integrates technology and services in households and organizations. We are used to seeing every technical solution separately, but, by combining your alarm system with other applications, domotics (also known as 'the internet of things') is formed.
+ Access control
Access control does literally mean having vision and control over the access to a building, terrain or specific part of either. It will provide extra safety, since you can flexibly determine who is allowed to enter an area or building, at what times.
+ Fire and evacuation
The speed at which a fire spreads is astonishing. A small, starting fire can quickly grow into an enormous house fire.
Early detection can be lifesaving. People can be evacuated, personal belongings can be saved and there is an increasing chance the building can be saved.
+ Data & telecom
A data communication network is a network for data transfer between two or more devices. These devices include phones, modems, televisions, computers or components of these.
+ Cameras
Security cameras work very well as a preventive action and therefore are used increasingly often by businesses, on properties, in stores and in houses.
SBA Beveiliging provides solutions, not only products. Our challenge is to strive for optimal security solutions for different scenarios in all possible cases. Keywords are: customer satisfaction, continuity and integrity. Our service and drive to cooperate with our customers is the solid base for an enduring relationship.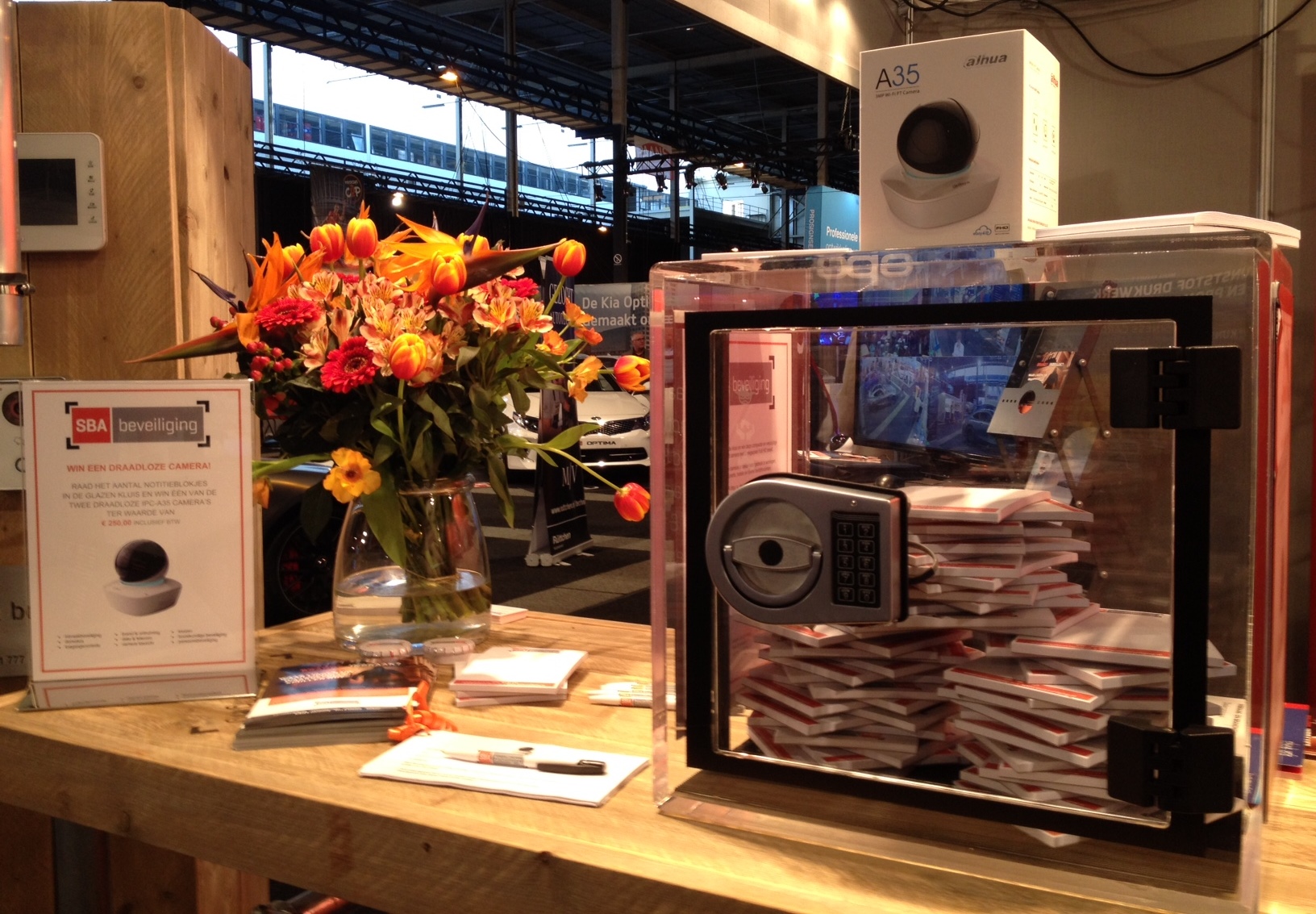 WIN EEN DRAADLOZE CAMERA
---
Tijdens de Fenexpo Business dagen op 11, 12 en 13 april jl. hadden wij een geweldige raad & win actie waarbij bezoekers aan onze stand kans konden maken op één van de twee draadloze IPC-A35 camera's. Onze bezoekers waren enthousiast over de kwaliteit van de getoonde beelden van deze compacte maar o zo stoere camera.
Om in aanmerking te komen voor deze ultra compacte camera moest er wel eerst een aantal notitieblokjes in de glazen kluis geteld worden. Hoeveel blokjes het waren houden we nog even geheim tot de trekking van de prijswinnaars.
Wie de winnaars van de camera's zijn zullen wij begin mei bekend gaan maken!
Houd onze website en Facebook pagina in de gaten want wie weet bent u één van de gelukkige winnaars van deze camera met full HD beeld.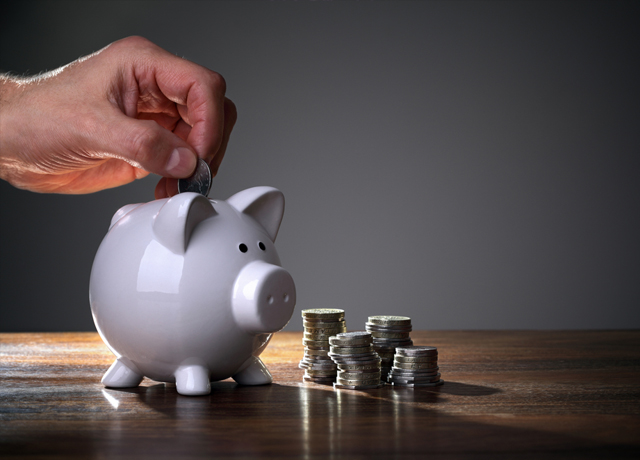 STOPT U UW GELD IN EEN OUDE SOK OF IN EEN KLUIS?
---
De spaarrente is momenteel op het laagste punt ooit beland en volgens Gerrit Zalm, bestuursvoorzitter van ABN Amro, is het niet meer uitgesloten dat ook consumenten geld moeten gaan betalen voor hun spaargeld. Banken en bedrijven betalen vaak al rente op hun overtollig kasgeld. Heeft u uw geld ook al opgenomen om thuis te bewaren? Hopelijk heeft u het geld veilig opgeborgen in een kluis. Maar….hoe veilig is die kluis nu eigenlijk? U moet er toch niet aan denken dat door brand uw appeltje voor de dorst in rook opgaat omdat uw kluis niet brand- en/of waterwerend is? Controleer daarom de brandwerende normering van uw kluis.
Heeft u nog geen deugdelijke kluis? Wij sturen u graag een brochure toe met een overzicht van de gecertificeerde kluizen die wij leveren. Heeft u liever telefonisch of via e-mail advies? Aarzel niet om ons te bellen of te mailen.
MAAK HET INBREKERS NIET TE MAKKELIJK
x
---
De campagne 'maak het ze niet te makkelijk' is een initiatief van het ministerie van Veiligheid en Justitie en haar campagnepartners en geeft informatie en tips om uw veiligheid te vergroten. Een inbreker heeft maar 'heel even' nodig om binnen te komen. Gelukkig kunt u met een paar simpele handelingen een inbraak al voorkomen.
Tip 1 : draai de deur op slot als u weggaat zodat deze niet met een creditcard of een hard stuk plastic open gemaakt kan worden. Ook wel de flippermethode genoemd.
Tip 2: zorg dat uw huis een bewoonde indruk maakt en leg geen waardevolle spullen in het zicht. Laat licht branden en informeer uw buren wanneer u voor langere tijd afwezig bent.
Tip 3: sluit alle ramen wanneer u weggaat zelfs de dak- en toiletramen ook als u maar even weggaat. Een insluiper heeft maar een paar minuten nodig om via een open raam uw woning binnen te komen en spullen mee te nemen. Gelegenheid maakt de dief.
Tip 4: laat geen sleutels aan de binnenkant van de deur zitten. Door het inslaan van een raampje kan een inbreker de deur van het slot draaien. Ook het boren van een gaatje met een handboor in het kozijn is een veel toegepaste inbraakmethode.
Tip 5: Haal vuilcontainers en ladders zoveel mogelijk weg zodat inbrekers deze niet kunnen gebruiken om bij hoger gelegen verdiepingen van uw huis te komen. Zorg ook voor goede beveiliging op de ramen en deuren op de hoger gelegen verdiepingen.
Voor meer tips kunt u kijken op de website van http://www.maakhetzeniettemakkelijk.nl/